Toiletry Bag for Women | Hardshell Suitcase | Waterproof
Toiletry Bag for Women | Hardshell Suitcase | Waterproof
Travel in style with this hard shell toiletry bag. 
If you prefer to pack your toiletries separately from the main suitcase, this will be the ideal travel toiletry bag for you. Spacious enough to contain all your creams, makeup and hair styling tools, it is an efficient organizer that you can carry separately and makes it easy to reach out for these items later in the hotel room, instead of rummaging for them in your big luggage.
Also doubles up as a mini suitcase if you are travelling light. Pack some clothes in there with your toiletries and voila, you are set!
1. Pack your toiletries here only :
2. Pack toiletries AND clothes for a short trip :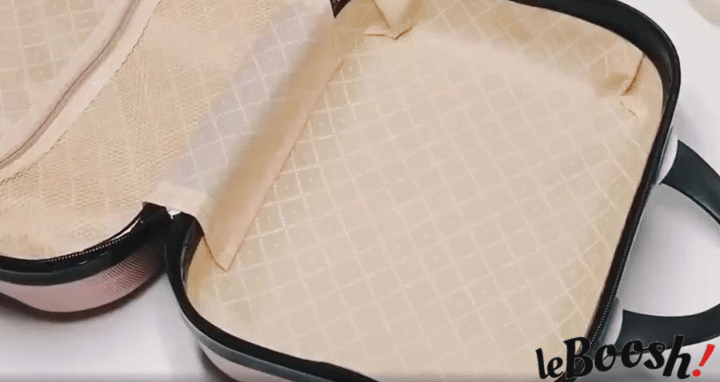 WHY WE LOVE
Spacious - the mini luggage design gives you more than ample space to fit all necessities.
Water resistant - hard shell repels water and keeps your contents dry.
Smart - back of the case has an elastic belt which you can strap onto your suitcase's handle.
Durable and pressure resistant - high quality textured ABS is scratch and pressure resistant. This is extremely important to ensure your toiletries don't get smashed should any external pressure be applied to it.
Rubber feet - protects base of the toiletry bag from dirt.
Multifunction - can be used as a mini suitcase for our clothes or protective shell for our designer bags as well!
SPECIFICATIONS

Material : ABS
Size : 12.6(W) x 5.5(D) x 9(H)inches/32(W) x 14(D) x 23(H) cm


FIRST TIME ORDERING
Get 10% off first order with code BOOSH10
SHIPPING LEAD TIMES
To cancel, kindly email within 2 hours after ordering.
After 2 hours, we are unable to cancel your order.
---
---
We Also Recommend