Pineapple Corer | Stainless Steel | Easiest Way to Enjoy Pineapples
Pineapple Corer | Stainless Steel | Easiest Way to Enjoy Pineapples
Peeling and cutting pineapple does not have to be a drag.
If you are afraid of handling the pineapple and doing all that cutting and digging of the eyes, then it's time to get a pineapple extractor tool that makes it super easy.
 Use the pineapple corer to dig out the wholesome goodness of this delicious fruit and enjoy it fresh. Forget pre-cut ones from the supermarket. It may have lost some of its vitamins by the time you purchase them.
The stainless steel corer is easy to use, safe and fast.  Simply slice the top of the pineapple then push the corer into the flesh and twist all the way down. You may want to put the pineapple on a plate as some juices will leak out as you do this.
Once at the bottom, you are able to pull the corer out and voila! You have a beautiful pineapple chunk cut up in spirals, without the eyes. Remove the handle and tilt out the pineapple. It's ready to eat.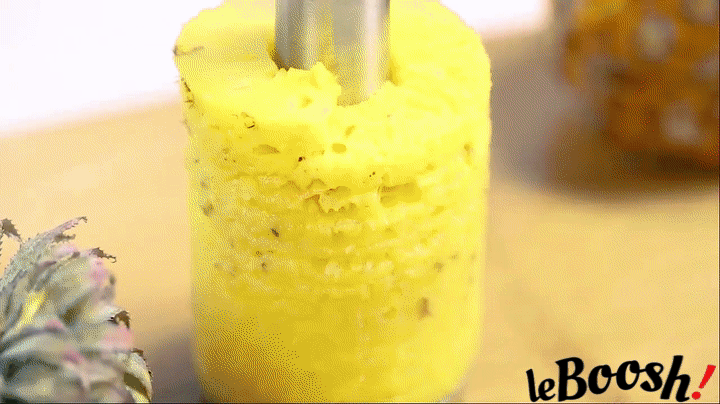 Buy whole pineapples and have fun cutting it up, the kids will love watching you do it. Not only is it more nutritious to buy a whole pineapple, it is more economical and hygienic as well. The beautifully cut rings will inspire children to eat more and get more vitamin C.
Stay strong, stay healthy, get a pineapple corer and you will not regret this handy kitchen tool.
Caution : Kids should not be allowed to handle this tool without adult supervision.
FIRST TIME ORDERING
Get 10% off first order with code BOOSH10
SHIPPING LEAD TIMES
To cancel, kindly email within 2 hours after ordering.
After 2 hours, we are unable to cancel your order.
---
---
We Also Recommend