Mini Suitcase Shaped Crossbody Handbag & Clutch
Mini Suitcase Shaped Crossbody Handbag & Clutch
Get a suitcase that hangs on you.
If you like attention, then get this mini suitcase crossbody handbag that doubles up as a wristlet clutch as well. Inspired by the shape of the Rimowa suitcase, this mini version suitcase handbag with a wide strap that says "Forever Love" is a scene stealer. Available in six stunning colors including the famous silver.
Lightweight and small enough to contain your necessities and no more, it is the handbag for the non fussed girl, the fashionista, the one who doesn't like to rummage thru her bag. We once knew of this girl who kept everything in her handbag, so much so that it looked like she could pull a bunny out of it, it was heavy like a brick....but not this bag, no. You have to make choices and make smart ones so that you look good and don't strain your shoulders.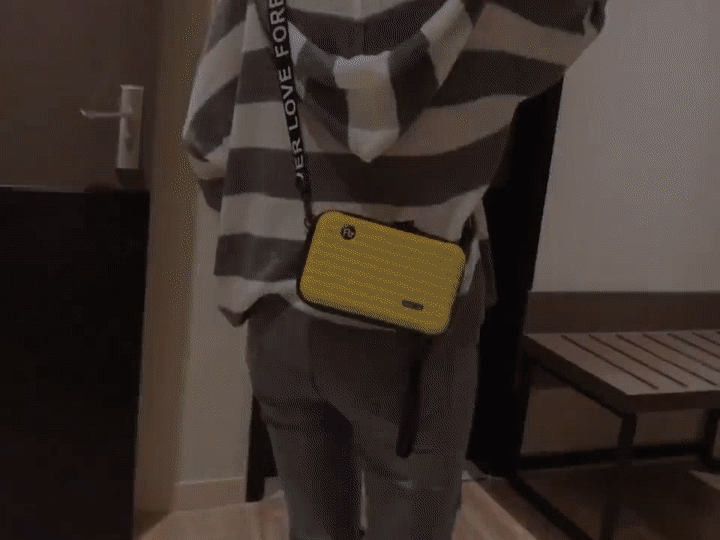 There is more than enough space for a small purse, smartphone, lipstick, compact, power bank, sunglass, etc.
WHY WE LOVE THIS MINI SUITCASE BOX BAG

Lightweight
Scratch resistant
Water resistant

Comfortable to wear

Adjustable & removable shoulder strap

Can be used as a wristlet/clutch purse

Can also be used as a cosmetic bag or camera bag

Vivid color
It grabs people's attention, a great conversation starter
Fashionable without trying too hard
Easy to unzip and the contents won't spill out as there are side protectors to hold everything in.
DIMENSIONS
7.4 X 2.3 X 4.7(H) inches/19 x 6 x 12(H) cm
Get a suitcase crossbody, it's something we know you will not regret.
FIRST TIME ORDERING
Get 10% off first order with code BOOSH10
SHIPPING LEAD TIMES
To cancel, kindly email within 2 hours after ordering.
After 2 hours, we are unable to cancel your order.
---
---
We Also Recommend