Cat Door for Door 4 Way Lockable System
Cat Door for Door 4 Way Lockable System
Give your cat the best of both worlds and the freedom to go in and out as and when she needs.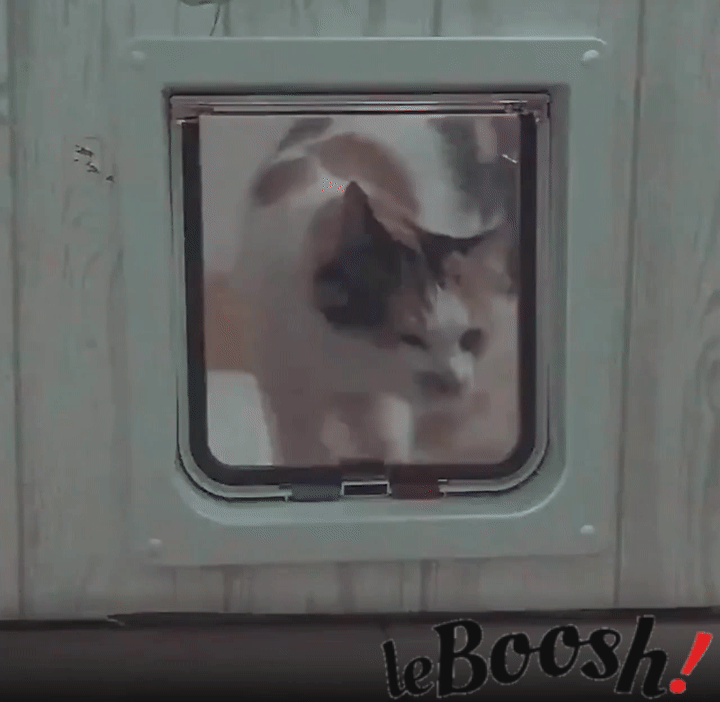 WHY WE LOVE

Material : High impact polypropylene frame and tough plastic
Benefits : Anti draught, rainproof seal, noiseless brush hair edge, magnetic closure to keep the flap shut, 4 way lock
HOW IT WORKS
The cat door comes with a handy 4 way locking system :
1. Cat is able to go in and out as they wish (ideal for cats!)
2. Cat is able to enter into the house only (great for them to stretch their legs once and then come back home and sleep. Other cats may come in, but hey, we don't mind, lol)
3. Cat is able to go outside only (prevents other cats from coming in)
4. Cat cannot go out or in (ideal for night time where kitty should be resting safely in the house)
No matter what locking system you choose to fit your lifestyle, we always recommend to do #4, lock both sides of the cat flap at night so that kitty is safe and warm at home. 
If you have kitty litter in a small room/bathroom which you would like to keep shut, then install a cat door for them so they can move in and out easily and the smell stays in the room.

Fits small dogs too, not big dogs! This can be used as dog door for smaller breed dogs.
SIZE (Width x Height x Thickness)



S: 7.5 x 7.8 x 0.7inches/19 x 20 x 1.8cm
M: 7.5 x 7.8 x 2.1inches/19 x 20 x 5.5cm
L: 9.2 x 9.8 x 2.1inches/23.5 x 25 x 5.5cm (ideal for pets around 15lbs/7kg plus)
Kindly measure your kitty first before ordering. If they are a kitten now, do get a larger size to accommodate their adult form, keeping in mind if they are part of larger breeds like Maine Coon, Norwegian Forest., etc

PACKAGE INCLUDES



1 x pet door
Screws 
Screw caps
Installation instruction 
HOW TO INSTALL
FIRST TIME ORDERING
Get 10% off first order with code BOOSH10
SHIPPING LEAD TIMES
To cancel, kindly email within 2 hours after ordering.
After 2 hours, we are unable to cancel your order.
---
---
We Also Recommend