Orthopedic Tailbone Cushion | Coccyx, Ulcer, Hemorrhoid Relief | Non Slip
Orthopedic Tailbone Cushion | Coccyx, Ulcer, Hemorrhoid Relief | Non Slip
SITTING SHOULD NOT BE PAINFUL.
Sitting long hours is unavoidable in this digital age but it comes with a host of chronic pain issues like coccydynia (inflammation of the tailbone) that can be debilitating. Prevent it with our coccyx cushion aka tailbone pillow, designed with high grade memory foam (viscoelastic foam) to reduce pressure on the spine and tailbone.
Ergonomically supports better than normal cushion

Reduce any discomfort or pain from sitting

Facilitates better recovery experience from surgery

Studded non slip base ensures cushion stays in place

Memory foam core provides softness to reduce pressure

18 x 15 x 2.8(H) inches provides ample space to support small to large sized bottoms than donut cushion, better pressure distribution

Naturally antimicrobial and resistant to allergens, mold, bacteria and dust mites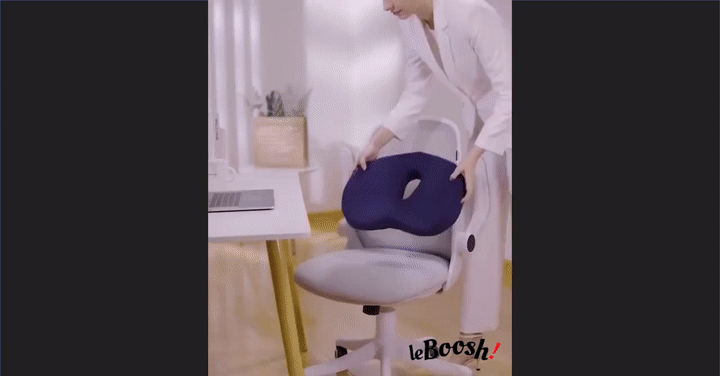 IDEAL FOR ANY AGE
Office workers

Students
Long distance commuters (via car or public transport)
Wheelchair users
Patients who are recuperating from tailbone surgery 
Pregnant women

Meditation practitioners
Gamers
Seniors (works well on

 

geriatric chairs)
COCCYX CUSHION TREATS OR PREVENTS THESE CONDITIONS

Tailbone/Sciatica/Spinal injuries
Buttock pain (which is far more serious than it sounds)
Pressure ulcers and bedsores
Rectal pain like hemorrhoids (piles) 
Various chronic pains and discomfort from long hours of sitting
If you are sitting on a wooden chair, especially in trendy, modern offices, it is even more important to have an orthopedic seat cushion like this to prevent your sit bones from bottoming out onto a hard surface, which can cause hamstring, spinal, nerve and tailbone pains in the long term.
HOW THE CUSHION WORKS
The keyhole cutout in the center of the cushion allows for proper positioning of your tailbone and sit bones. This in itself helps tremendously as your tailbone is not curved and pressed at an angle that makes it painful when you need to sit long hours. For anyone who has fractured their tailbone before, sitting on a coccyx cushion is a must.
MORE ERGONOMIC THAN FIRST GENERATION COCCYX CUSHIONS
This new  3D shape flows and fits better to your buttock curves. Not only that, the curved back holds you in the right position to sit and angle your tailbone properly. The front slope helps with blood circulation, prevents legs from falling asleep. This new coccyx cushion will give anyone a better sitting experience than the first  generation coccyx cushions that are flat with a hole on one side.
INNER LINING KEEPS CUSHION CLEAN
Our cushion comes with a white inner fabric that acts as a second layer to protect the memory foam from oxidation, stains and dust. Most coccyx cushion brands do not have this to save cost.
NON SLIP BOTTOM PREVENTS ANNOYING SLIDING
The best feature : The base of our coccyx cushion is studded with a premium rubber texture to ensure minimal to no movement, once the cushion is placed on a chair. It won't be slipping and sliding all over your chair. You won't need to fuss with tying straps onto your chair either. However, if you have a soft leather seat, we want to caution you that it will leave imprints on your leather, but not in a damaging way.
Use it with the Lumbar Support Cushion for added support to your spine.
FEEL BETTER
Don't let pain nip you in the butt and pull you down. Pain doesn't discriminate young or old. Prevention is definitely better than cure. Get a coccyx cushion today for yourself and loved ones.
COMMON FAQ
1. Memory foam cushion is too soft, why? That is what memory foam is for. It has to be soft to allow user to sink into the cushion to prevent buildup of pressure on the part of the skin that is touching the foam. If it's too firm or hard, that is when friction happens which in long run can cause pressure sores. For patients recovering from tailbone fracture, they need softness.
2. Is it good for wheelchair patients? Yes, the hole helps to relieve possible coccyx inflammation and memory foam prevents pressure buildup. However, ensure patients have regular massages/physiotheraphy to simulate blood flow to the lower half of the body.
3. How do I wash? Remove the zippered fabric to hand wash and air dry. Do not bleach, tumble dry or iron. The memory foam which is encased in a white mesh lining cannot be washed, it can damage the structure of the cushion if you soak it. If it gets wet/soiled, sprinkle baking soda and leave it under the sun to dry. Then vacuum off the baking soda. If you really need to wash it, spray water on the spots and blot with tissue to get it as dry as possible, then apply baking soda and leave to dry under the sun. 
4. The cushion lifts my feet off the floor, is that ok? Your feet must be planted squarely on the floor for the right sitting posture. Reduce your chair height. If not possible, place a box on the floor to rest your feet on.
 Disclaimer : Seat cushions act to alleviate pressure, reduce friction and make sitting long hours more bearable. It does not cure existing bedsores. If you or loved one has bed sores, please get the proper treatment from medical expert as it is highly dangerous to leave it untreated. 
FIRST TIME ORDERING
Get 10% off first order with code BOOSH10
SHIPPING LEAD TIMES
To cancel, kindly email within 2 hours after ordering.
After 2 hours, we are unable to cancel your order.
---
---
We Also Recommend