Mini Suitcase Shaped Crossbody Handbag & Clutch | Special Edition
Mini Suitcase Shaped Crossbody Handbag & Clutch | Special Edition
Get a suitcase that hangs on you.
Our Mini Suitcase Shaped Crossbody Handbag and Clutch is back with special edition colors! This time, with the strap that says "Forever Young", this colorful mini box handbag is for the young in mind, body and spirit, the wanderlust and the fun seeker. Square bags has never been so cool.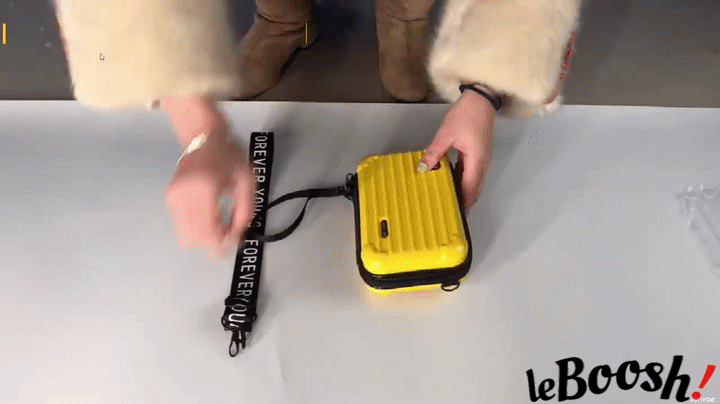 WHY WE LOVE THIS BAG

Lightweight
Scratch resistant
Water resistant

Comfortable to wear

Adjustable & removable shoulder strap

Can be used as a wristlet/clutch purse

Can also be used as a cosmetic bag or camera bag

Vivid color
It grabs people's attention, a great conversation starter
Fashionable without trying too hard
Lightweight and small enough to contain your necessities and no more, it is the handbag for the non fussed girl, the fashionista, the one who doesn't like to rummage thru her bag. You have to make choices and make smart ones so that you look good and don't strain your shoulders. Being shaped like a suitcase, it is as roomy as a typical suitcase would be. You will be surprised, you can actually put more things in there than you think.
If you like going to music festivals and concerts, this box crossbody bag will be the best.

secure - no one can reach into your bag and take things out on the sly
wipe off your sweat easily
wipe off rain or food stains easily
All you have to do is just wipe to clean and detach the strap to wash separately. It's that simple.
Easy to unzip and the contents won't spill out as there are side protectors to hold everything in.
DIMENSIONS
7.4 X 2.3 X 4.7(H) inches/19 x 6 x 12(H) cm
One color will not be enough. Get a few to suit your style and mood!
FIRST TIME ORDERING
Get 10% off first order with code BOOSH10
SHIPPING LEAD TIMES
To cancel, kindly email within 2 hours after ordering.
After 2 hours, we are unable to cancel your order.
---
---
We Also Recommend